Oil Pipelines and the Great Lakes
Background
Rachel Havrelock spent summer 2011 following the pipes that link Jordan, Egypt, Palestine and Israel as a US Department of State Professional Fellow.  Havrelock had just finished her book on the Jordan River when she realized that pipes are as central to a watershed as riverbeds.  Thus began her pipeline fever with two ongoing research journeys across the defunct Iraq Petroleum Company Kirkuk-Haifa pipeline and the vast energy network that transects the Great Lakes region.
The Freshwater Lab oil pipeline project concerns the network of Tar Sands oil from beneath the boreal forests of Alberta, Canada to the Petroleum Coke stacked in neighborhoods along the Chicago-Indiana border. In between, it moves through the Enbridge Corporation's Lakehead pipelines that span approximately 1,900 miles between the U.S. and Canada as they traverse class, race, and national boundaries.
We propose that everyone living along this system constitutes a group united by the constructed flow of energy.  Therefore, everyone in the system deserves to know where their energy comes from, how much it costs, and what its tradeoffs are.  Primarily, we want to account for the costs and the risks of energy to the Great Lakes, a freshwater system surrounded by pipelines and refineries.  Our stance is not oppositional. Instead, we believe that the circulation of oil creates a network of relationships, not an irreconcilable divide between jobs and the environment.  To insist on the divide is to polarize a complex system into a rigid divide.
Summit 2017 Working Group
#OilPipelines
The Oil Pipeline panel on May 11th (10:00 AM – 12 PM) will illustrate the network of oil and speak to its social impacts.
Speakers include:
o   Robert Blanchard, Chairman, The Bad River Band of Lake Superior Chippewa Tribal Council
o   Liz Kirkwood, Executive Director, FLOW (For Love of Water)
o   Jennifer McKay, Policy Director, Tip of the Mitt Watershed Council
o   Thomas Frank, Toxic Tours
o   Olga Bautista, Founding Member, Chicago's Southeast Side Coalition to Ban Petcoke
Facilitated by:
o   Corbin Hiday, Research Associate, Freshwater Lab
o   Justin Raden, Research Associate, Freshwater Lab
The Oil Pipeline working group will explore ways to understand the water-energy nexus in the Great Lakes, to educate the public, and to prioritize drinking water in small and large-scale energy decisions.
Theories of bioregionalism –an orientation toward place based on its ecological and cultural specificity rather than the arbitrary lines of political definition— guide the pipeline project.  Bioregionalism meets engineering as we see bioregional connections among those served by common infrastructure.  The Enbridge Lakehead Pipeline System constitutes a tangible circuit over which Canadian First Nations, oil workers, rural pipeline communities, Native American tribes, oil spill survivors, clean water advocates, and urban communities differently yet collectively exercise jurisdiction.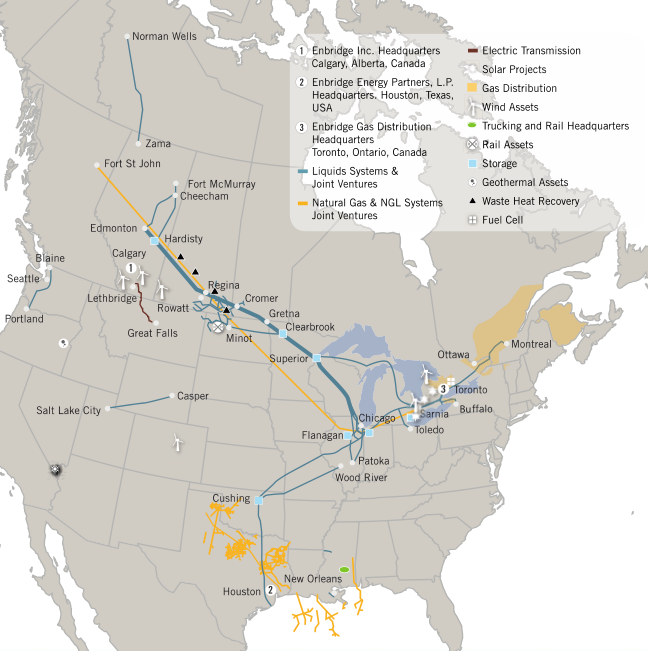 Approximately 15% of total U.S. petroleum imports arrives via Enbridge Energy's Lakehead System
Line 5 is a 645 mile long, 30 inch pipeline that transports light crude oil, light synthetic crude, and natural gas liquids. It has a 545,000 bpd capacity. 554 miles out of 645 miles of the pipeline lay in Michigan.
Line 5 UP sensitive areas
Line 5 sensitive areas in TOMWC service area